Tel: +44 (0)1373 463455
Email: info@keyford.co.uk

Keyford - One Supplier - Complete Solutions
Recruitment
Careers at Keyford
For full information on careers opportunities at Keyford and how you may apply click below
More Details
SC21 Bronze Award Presented by AgustaWestland
13-May-2013
13-May-2013 16:19
in General
by Admin
21st Century Supply Chains Initiative Reaps Rewards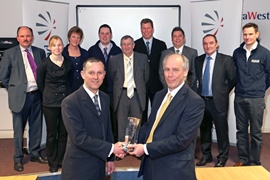 Initiated in 2006 by ADS, SC21 was launched as a change programme designed to accelerate the competitiveness of the aerospace & defence industry by raising supply chain performance.
In October last year Keyford were awarded a prestigious Bronze Award on this nationally recognised programme. This achievement was not easily gained and puts Keyford in the top 10%-15% of suppliers taking part on the scheme.
In light of this achievement, Keyford were recently invited to attend a formal presentation ceremony at their sponsor on the scheme and founding signatory of the programme, AgustaWestland. The presentation was led by AgustaWestland procurement executive Richard Frost and attended by Phil Curnock of ADS as well as personnel from both the Keyford and AgustaWestland teams.
Steve Denmead, Managing Director at Keyford, said: "Since working closely with members of the AgustaWestland communication and SC21 teams, our thought processes and the ways in which we assessed our performance have been transformed, with the true ethos of continuous improvement installed at every level."
"Through the hard work of all parties we have improved all areas of the business and the net result was a benefit not only for Keyford itself but for all of our customers".
"It took time to get things right but the SC21 Bronze Award is proof that Keyford have evolved into a top performing supplier on all fronts."
AgustaWestland has played a key role in the development of the 21st Century Supply Chains project since inception along with other major players in UK defence and aerospace industry. The project now encompasses in excess of 610 companies, with a large proportion actively using the SC21 tool kit to improve their part of the supply base.
Procurement Executive Richard Frost commented:
"AgustaWestland has seen considerable benefits brought to supplier-customer relationships through the SC21 programme, by fostering continuous business improvement.
"It is really important to communicate clearly, accurately and frequently because of the dynamic environment in which we find ourselves.
"Parties must agree the necessary actions (which are often related or joint actions) that need to be taken by all parties to make significant improvements.
"This award recognises the sustainable successes being achieved through this important joint project . Along with other major aerospace companies, AgustaWestland is will continue to drive improvement in its supply chain by using the SC21 programme principles."
The presentation was the perfect way in which to formally receive the award crystal.