Tel: +44 (0)1373 463455
Email: info@keyford.co.uk

Keyford - One Supplier - Complete Solutions
Recruitment
Careers at Keyford
For full information on careers opportunities at Keyford and how you may apply click below
More Details
SC21 Bronze Award Retained with Improved Score
22-December-2013
22-December-2013 11:44
in General
by Admin
Time flies when you're busy and whilst Keyford have certainly been busy even we find it astounding that it's already 2 months since Keyford received confirmation that it had retained the prestigious SC21 Bronze Award back in October. It's also amazing to think that it's already a month since representatives of Keyford received the Bronze recognition certificate at the SC21 Task Force at RAF Cosford in November.
So it's high time we celebrated retaining the award, especially as this time around Keyford had improved scores in all areas of assessment. Steve Denmead and Andy McPherson were formally presented with the award by Rob Dickinson of AgustaWestland, Keyford's customer lead on the SC21 programme.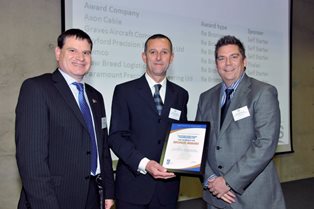 Of course this acheivment would not have been possible without the hard work and the commitment to improve by our dilligent staff at all levels. We would like to take this opportunity to thank them for their efforts and the bright future that their endeavours are bringing to Keyford.
If you would like to more about SC21 please follow the links on our Approvals Page